2024 Ram Lineup
The wildly popular Ram is returning for the 2024 model year. Whether you're an avid Ram lover or searching for your first truck, you need to understand all your options regarding the Ram lineup. There's a Ram for everyone—from those who seek the finer things in life, such as luxurious comfort and advanced technology, to drivers looking to handle heavy hauling. Either way, the Ram is an excellent option for drivers everywhere. Our team at Yaklin Chrysler Dodge Jeep Ram (CDJR) of Angleton is here to talk you through the 2024 Ram lineup and the top features you can expect.
Overview of the Ram Truck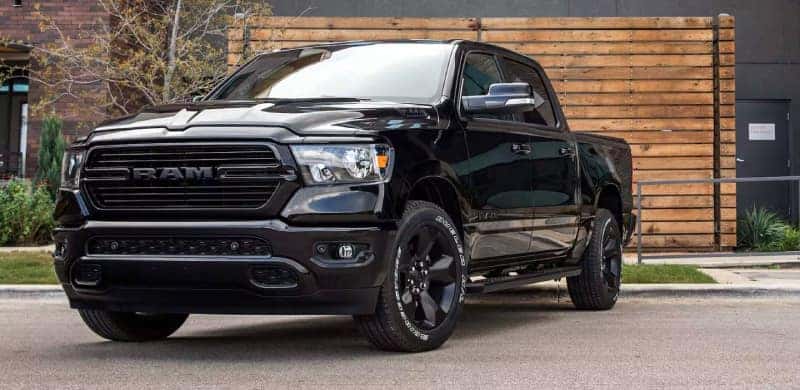 The Ram is a full-size pickup truck in its fifth generation. This line of trucks began in the 1980s, and the rest is history. Ram is now one of the biggest names in the truck market, and it's easy to see why. A bold attention-demanding exterior design captures the eye, while you can customize the interior finish with work-ready features such as easy-to-clean flooring and seating and luxurious finishes such as leather seating with heat and ventilation.
Ram now includes advanced infotainment options in all their trucks, making staying connected to the world around you easy. Technology and safety also meet inside each Ram to help protect you and your passengers while on the go. So, whether you're searching for your next work truck or want something comfortable for your weekend adventures, the Ram truck should be at the top of your list. Here we'll go over the 2024 lineup and discuss the features we're sure you won't want to miss.
Ram Truck Lineup for 2024
As always, Ram will be releasing an incredible assortment of trucks to help fit the needs of drivers everywhere. Trucks are increasingly popular due to their versatility, bold exterior aesthetics, and interiors designed for ultimate comfort. The new series of Ram trucks for the 2024 model year is no different. You'll find high-end comfort, advanced technology and safety features, and unrivaled performance to help you navigate the world around you. Here's more about the Ram truck lineup:
2024 Ram 1500
We expect no significant changes for the 2024 Ram 1500, with the majority of the design carrying over from the generation released in 2019. This full-size truck offers trim levels ranging from work ready with easy-to-clean flooring and vinyl seating to more luxurious trim levels with leather seating, a panoramic sunroof, and a tablet-size touch-screen display. Various exclusive packages and editions make choosing the best truck for your driving needs and personal style easy.
2024 Ram 1500 Classic
The Ram 1500 Classic is almost certain to return for the 2024 model year. This pickup offers dependable power via the 395 horsepower provided by the 5.7-liter HEMI V-8 engine. Head-turning style and available packages, such as the Warlock package, offer the rugged features you need to take on the world around you. Ram has carefully thought out its use of premium materials, and disguised storage options to make bringing along whatever you may need for your day easier. Advanced safety features should carry over to give you added confidence on the go.
2024 Ram 1500 TRX
The powerful 2024 Ram 1500 TRX will be back again for another year and offer the same rugged design that many know and love. The exterior presents an abundance of off-road-ready features that are sure to impress on any adventure. It features a supercharged 6.2-liter HEMI V-8 engine that produces awe-inspiring power when you put the pedal to the metal. It'll also feature almost 12 inches of ground clearance to help you overcome obstacles. The inside will boast leather and suede finishes with contrast stitching for a luxurious experience behind the wheel.
2024 Ram 2500 and 3500
The new 2024 Ram 2500 and Ram 3500 will receive some updates for the new model year, with new technology features and power than previous years. These heavy-duty models should see a new air-style Ram hood to help with air intake to help the engine breathe. This increased airflow will allow the 6.7-liter Cummins engine to haul even more. We also expect the new 2500 and 3500 HD models to receive a Clearview camera monitoring system to help with visibility while hauling heavy loads.
A mild hybrid engine may also be available for the 2500 to improve fuel economy and deliver some extra torque when accelerating. There'll also be an available Sports Performance Hood that you can add as an option on the Rebel, Laramie Sport, Laramie Night Edition, and Limited Night Edition. You may also find the Power Wagon as an off-road-oriented trim level. With the 2500, you'll be able to haul up to 19,680 pounds, so you can easily bring your trailer, boat, RV, or whatever else you need.
The All-New 2024 Ram 1500 Revolution EV
All electric and ready to tackle the road, the long-await Ram 1500 Revolution electric vehicle (EV) will arrive for the 2024 model year. Details include a futuristic exterior design that doesn't venture far from the iconic Ram style. It'll boast features such as a large Ram logo where the grille would be on a gas-powered version, thick LED lighting strips that surround the headlights, a lower roof line, vertical LED taillights, and Ram badging on the doors.
The 2024 Ram 1500 Revolution EV will come in a traditional body-on-frame architecture with a low-sitting battery for increased stability. With a range of up to 500 miles, the Ram Revolution can take you just about anywhere you want to go. A front trunk will provide you with even more cargo space and a spacious bed and rear seat.
Visit Yaklin Chrysler Dodge Jeep Ram
We'll work hard to keep you updated on the latest information about the 2024 Ram lineup. For questions or more details about these trucks or any of our other in-stock Ram trucks,  please don't hesitate to contact Yaklin CDJR today. A team member will gladly help you find a truck that meets your driving needs. You'll find us at 1212 S. Velasco St. in Angleton, Texas, from 8 a.m. to 7 p.m. Monday through Friday, closing at 6 p.m. on Saturday. Complete our secure online form or call us at 979-481-6765 to get started.
Image via ram.com